Discover more from DEFI TIMES Newsletter
Learn about Decentralized Finance on Ethereum, Polkadot, and more.
Over 1,000 subscribers
Zerion - Easy DeFi Investments

---
Hey DEFI WORLD community!
DeFi is awesome! So what's stopping it from reaching mass adoption? There are two key reasons for this: scalability and user-friendliness.
Today we want to focus on the user-friendliness part. Zerion is a new protocol, which aims to solve this exact problem.
The following is a small guest article written by the Zerion team!
Cheers!
---
Level up your DeFi knowledge and subscribe to our newsletter!
---
With DeFi exploding over the past few months, one thing has become pretty clear: asset management in the financial wild west is not an easy task. Competition has heated up between portfolio tracking interfaces like Zerion, Zapper, Argent and InstaDapp.
For the first time, only one of them offers the full stack of the DeFi user journey – from exploring new assets and placing a trade, to investing in complex primitives and tracking your portfolio.
Zerion – the decentralized Coinbase
Over the past few months, Zerion has rolled out a number of integrations that make it the most comprehensive investment tool for DeFi. The interface's execution engine picks the best route for trades, offering a liquidity channel to every major decentralized exchange (DEX), DEX aggregator, and automated market maker (AMM), including:
Uniswap

Balancer

Curve

1inch

Sushi

0x
In other words, building your portfolio just became as easy as tracking it. Here's how it works:
Exploring new assets
Imagine Coin Gecko and DeFi Market Cap rolled into one, inside your portfolio. Zerion's Explore page lets you filter assets by type, sort by performance, search tags, and dive deeper by clicking on individual tokens.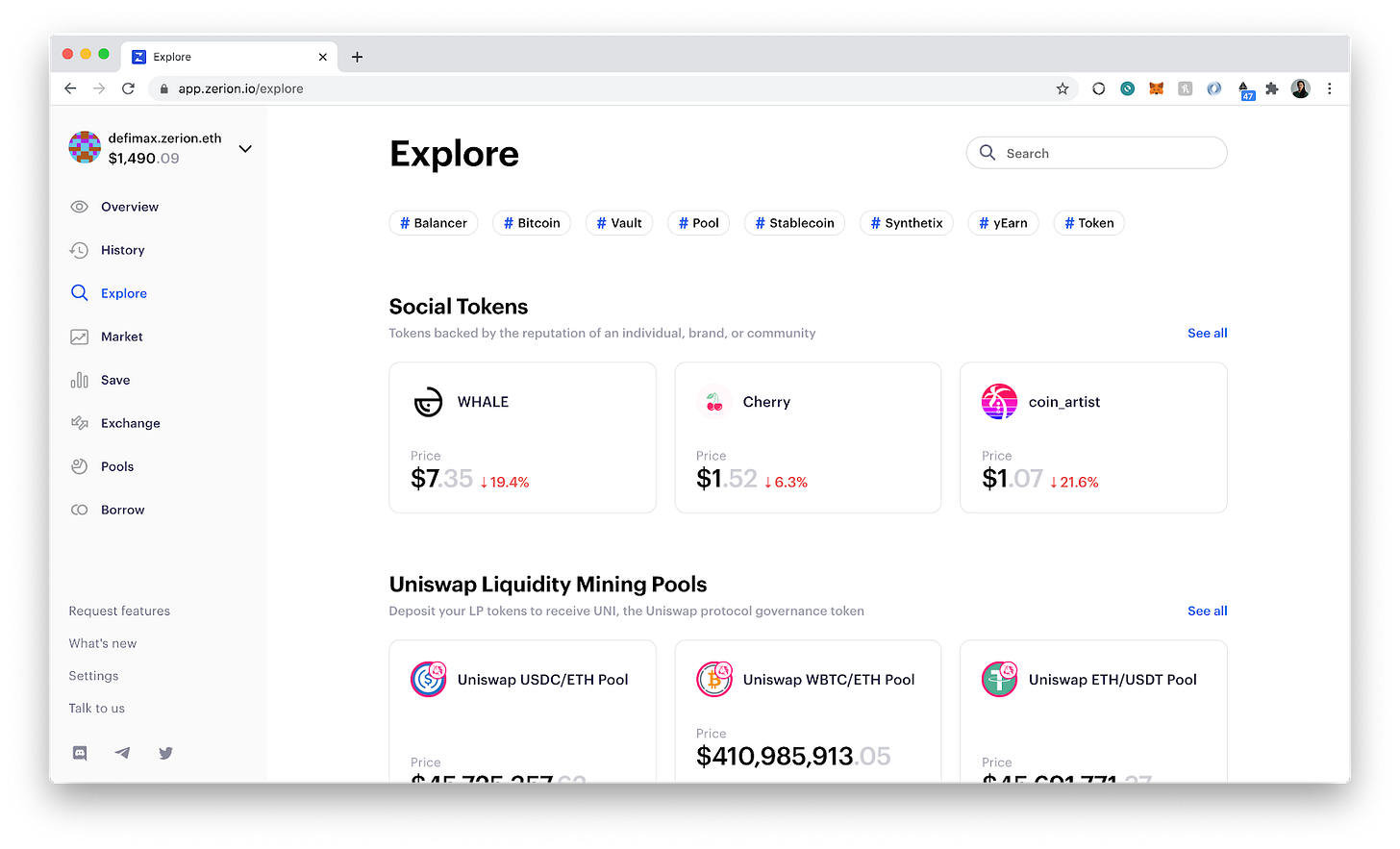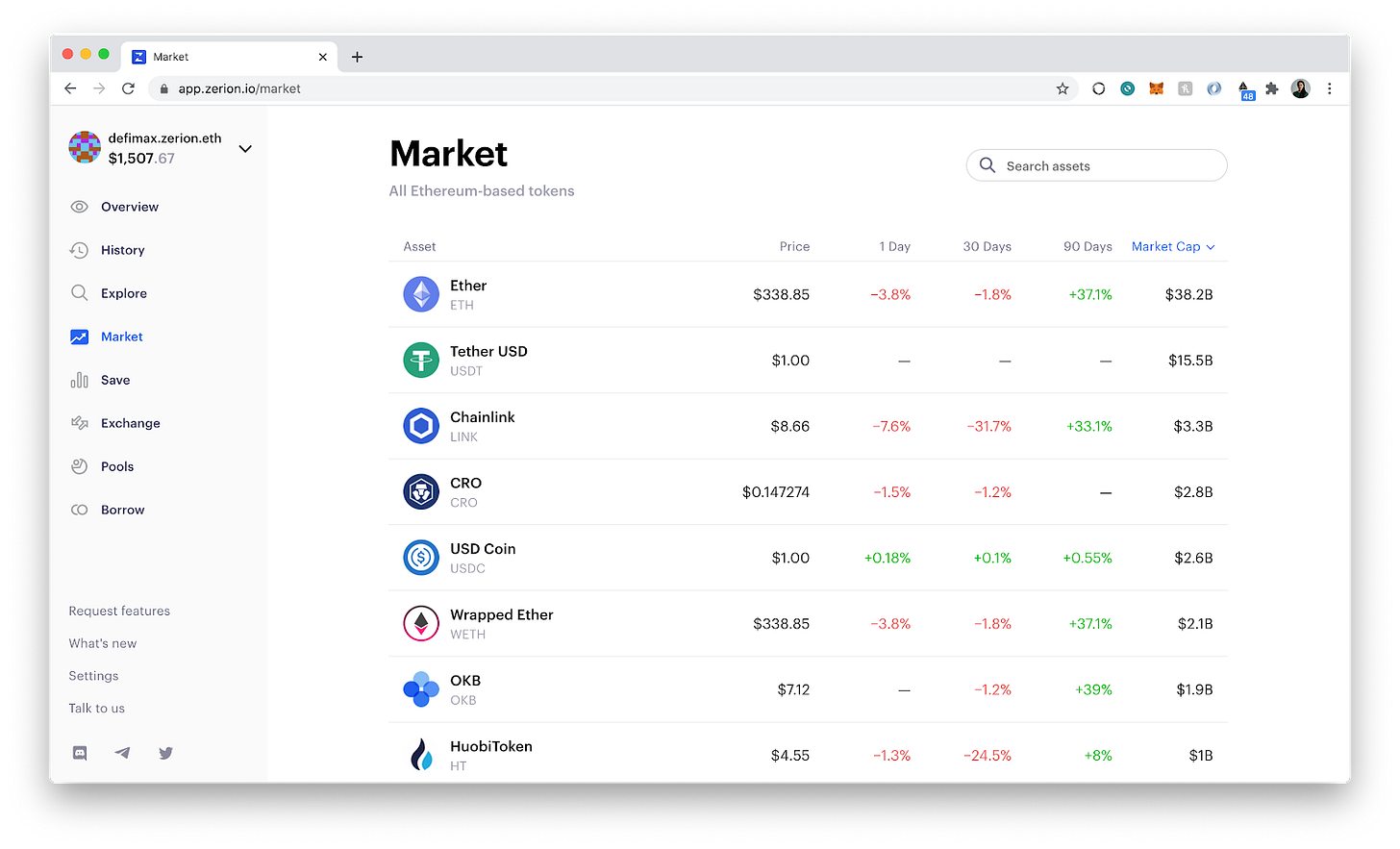 Single-transaction trades, for every asset
Zerion supports thousands of DeFi tokens – including Uniswap, Balancer and Curve pools; yearn vaults; social tokens, and more.
Zerion's robust backend combined with an award-winning UI is what makes it such a unique contender in the space. As a user, you're no longer constrained to specific token pairs – you can input any asset to any protocol, and the trade will be optimized for you.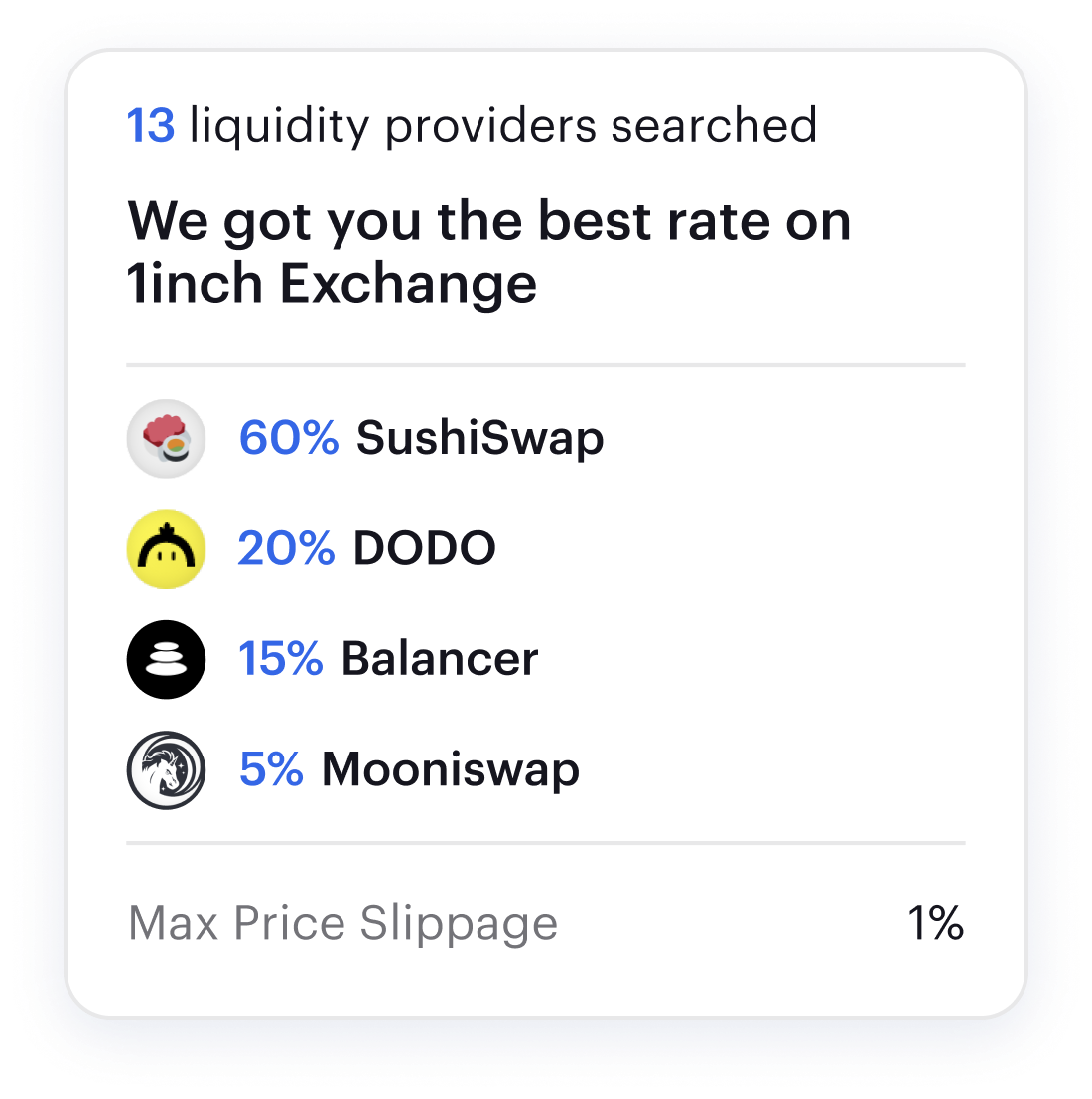 For example, it's now easier and cheaper to invest in yearn vaults. Zerion will automatically route you between buying yTokens on Uniswap or minting them – whichever works out cheaper.
Accurate portfolio tracking
Zerion's Overview and History pages are one of their most popular features. It's not hard to see why:
Users have the option to enable push notifications for wallet transactions and market movement.

Every asset on the overview page can be clicked to see detailed asset information and historical performance.

Transactions on the history page are presented in an incredibly user-friendly format, with a search bar to filter by token and transaction type e.g. "send", "deposit", "receive".
Tying it all together
With Zerion, you can Buy your first ETH, make your first swap, accrue interest on deposits, participate in liquidity pools, stake tokens, and track your returns for all your assets, across all your wallets.
Connect your wallet on Zerion to get started.
---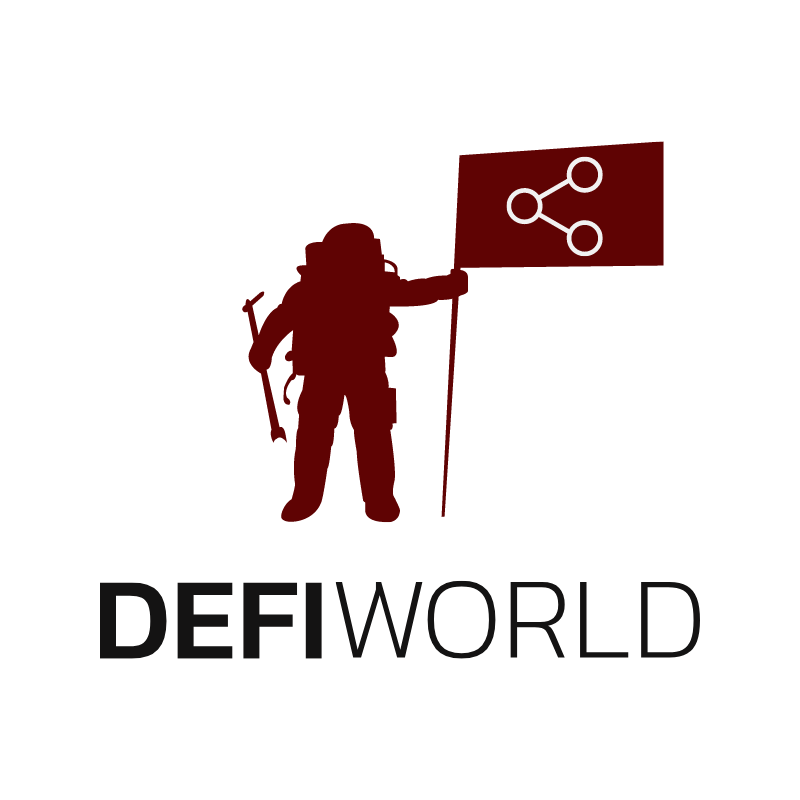 ---
All information presented above is for educational purposes only and should not be taken as investment advice.
---