Discover more from DEFI TIMES Newsletter
Learn about Decentralized Finance on Ethereum, Polkadot, and more.
Over 1,000 subscribers
The Winner Doesn't Take All - CRYPTO FRIDAY
---
Hey DEFI TIMES community,
As the saying goes, the winner takes all! Or does he? 
Last week, the BNB price exploded after the Binance Smart Chain experienced a significant increase in users. The most prominent exchange (PancakeSwap) on BSC even overtook Uniswap in trading volume. 
Most Ethereum maximalists were offended. They claimed that the trading volume was fake; Even though the volume probably was fake, we learned a lot more.
Binance Chain did get many users, and there is one reason for this: Ethereum gas fees are way too high.
We see two trends that do not seem to go away:
1. Gas fees tend to increase over time
2. People want faster and cheaper transactions
That's why many people are searching for alternatives, and even though the Binance Smart Chain might be centralized, we learn that people are willing to switch from Ethereum to faster chains.
That's where the opportunity is. Ethereum maximalists are wrong because Ethereum will certainly not be the only winner in the long run. Don't get me wrong, Ethereum had the chance to capture all the value, but fees were in the way. In fact, I believe that we will see a number of winners in the future. Ethereum will be one of them - but certainly not the only one. 
If you want to front-run the masses, do your research about alternative layer-ones. That's where most people will go when gas fees are not affordable anymore.
Even when Ethereum's sharding ships, those alternative chains will survive. Quite the opposite is the case - they will thrive in the long run!
Don't be an Ethereum maxi - the winner doesn't take all!
---
Subscribe to our newsletter to level up your crypto game!
---
dydx goes L2
Dydx has announced that it is now on layer two! It is using Starkware's zkStarks. The withdrawal time to L1 is fast, especially compared to Optimistic rollups.
Aave partners with Balancer
Aave partner with Balancer! They will allow idle assets on Balancer V2 to earn yield on Aave.
Enzyme Sulu
Enzyme announces a further upgrade! They will allow:
- Borrowing
- Curve pools
- idle finance support
- Aave lending
- Balancer pools
- Support for stakedETH
Saffron V2
medium.com
Introducing Saffron V2
Today we are proud to announce the beta launch of Saffron V2 on both Binance Smart Chain and Ethereum mainnet! The beta launch is scheduled for Wednesday at 18:00 UTC. Applications to participate in…
Saffron V2 will launch on BSC and Ethereum.
DoDo V2 public beta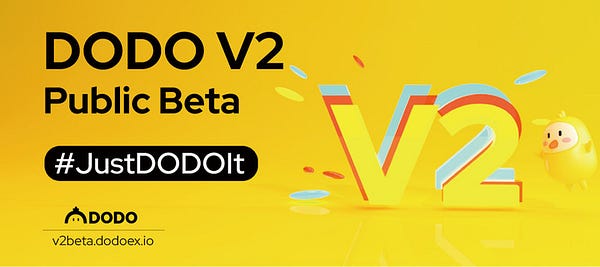 DoDo v2 public beta is now live!
---
---
All information presented above is meant for informational purposes only and should not be treated as financial, legal, or tax advice. This article's content solely reflects the opinion of the writer, who is not a financial advisor.
Do your own research before you purchase cryptocurrencies. Any cryptocurrency can go down in value. Holding cryptocurrencies is risky.
---
Some recent tweets